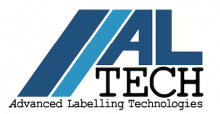 Viale Alcide De Gasperi
70
20008
Bareggio
MI
Italia
Telephone
+39 02 90363464
Company description
ALTECH - Advanced Labelling Technologies - is a leading European manufacturer of self-adhesive labelling systems for decorating, codifying and identifying products and materials in general.
Founded in 1991, the company is now becoming a benchmark among the world's manufacturers of labelling machines.
The labelling machines built by ALTECH are used in all industrial sectors for labelling food, cosmetic, pharmaceutical, and chemical products.
Today the company's systems are sold directly throughout Italy, while in 50 countries in Europe and overseas they are distributed via a network of 80 qualified distributors and 3 subsidiaries in the UK, USA and South America.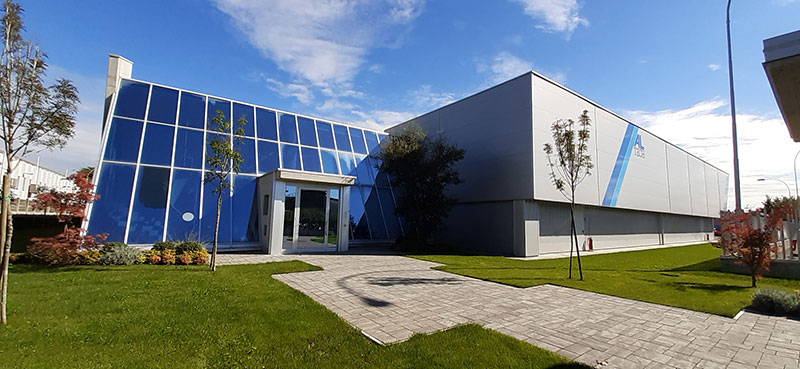 Prodotti
ALstep
ALstep is a low-cost self-adhesive label applicator, designed to be added to existing packaging lines without affecting productivity, thanks to its modular and flexible design.
It has reels of labels with a diameter of 300 mm and label width of 100 and 200 mm, respectively for the S and M version, at a dispensing speed of 30 m/min. Version E, which is particularly cost-effective, is limited to 18 m/min.
ALritma
ALritma is a label applicator of particularly high performance (depending upon the version). Thanks to its innovative design it can be easily added to packaging lines where high productivity and reliability are indispensable prere-quisites. It has reels of labels with a diameter of up to 300 mm and, depending upon the model, labels with a maximum width of 300 mm.
The maximum labeling speed ranges from 50 m/min for the standard version, to 90 m/min for the Xtra version (which among other things accepts reels up to 400 mm in diameter). It can also come with an ALritmaT version heat transfer print unit, for print/apply applications.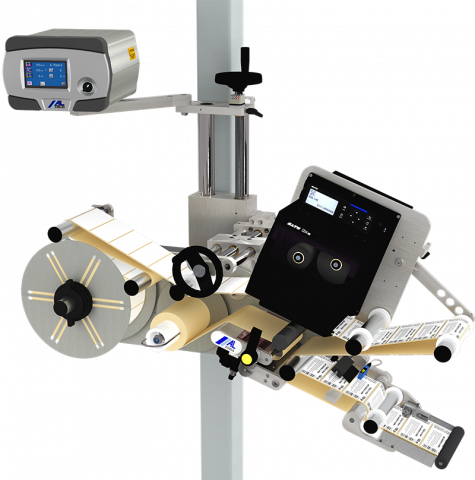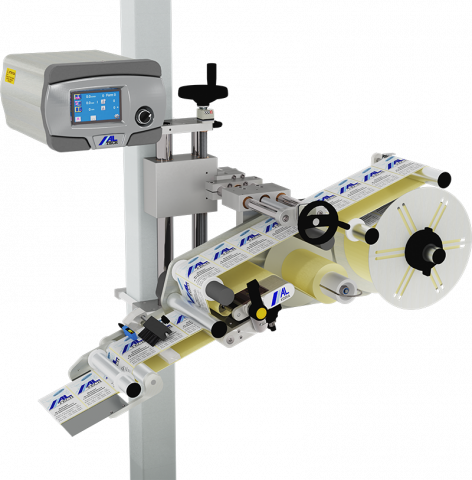 ALline
ALline is a range of complex linear systems that can apply pressure sensitive labels on products of various shapes.
It is made with the most reliable materials and components on the market, ensuring all-important performance and production.
Its modular design, completely renovated, comes with ALstep and/or ALritma heads, and can be configured on the basis of the customer's needs, so that the label can be applied to products of any shape and size for front/back, wrap-around and seal labeling, on food, cosmetics, chemical and pharmaceutical products.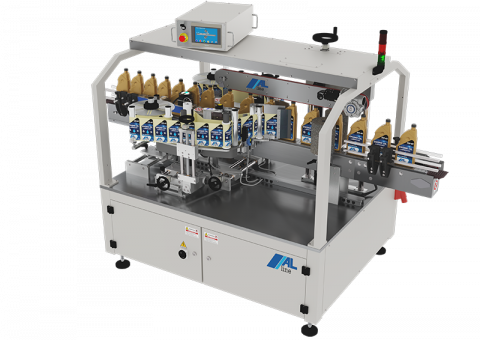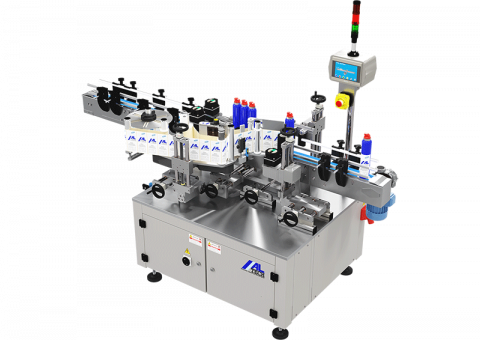 ALcode
The ALcode range can satisfy the widest variety of demands in self-adhesive print & apply labels. Thanks to its modular design and the particular expertise of the print module (SATO or compatible), the unit can print in thermal-transfer texts and barcodes on labels, and apply them soon in real time. A specific version, ALcode P, represents the latest evolution by ALTECH of pallet labelling machines.
The system is able to print and apply A5 format SSCC labels onto two adjacent faces of a pallet (normally front and side) in accordance with the EAN 128 standard (also on three sides if required), providing high reliability, print and apply quality, operations up to 120 pallets/h.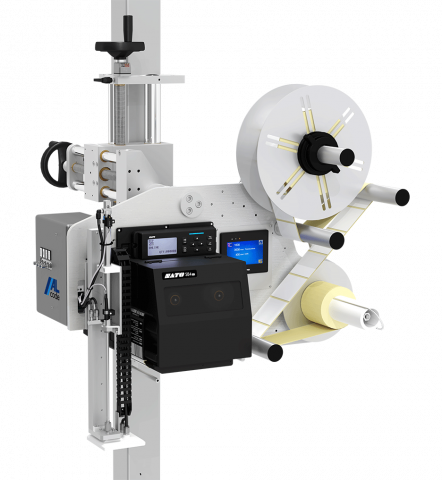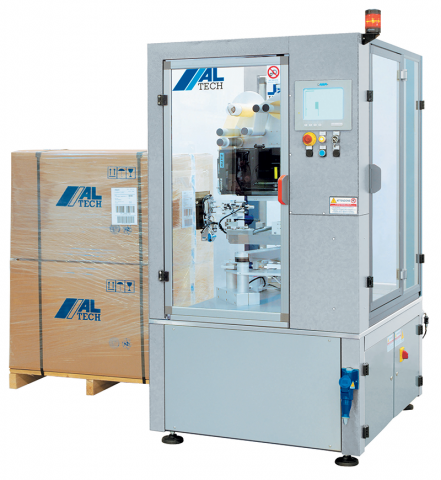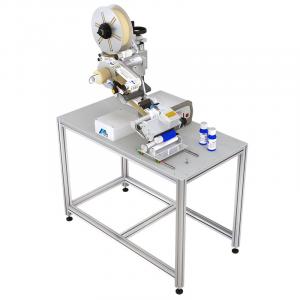 ALmatic
Ideal for semi-automatic labeling, the system can apply labels up to 200 mm in width onto bottles, phials and pots, flat or elliptical (ALmatic E), or cylindrical products (ALmatic C) of variable diameter from a minimum of 12 mm to a maximum of 110 mm.
Thanks to the ergonomics of the system and  the presence of the sliding ball guides, it permits precision labelling, that significantly facilitates manual product positioning operations.
ALmatic range is optionally equipped with a labeling head of ALstep or Alritma series. Furthermore, the same head can also be used for future integration on faster automatic systems.
Thanks to its modular construction, the ALmatic system can also be equipped with a thermal transfer printer for printing variable data and barcodes.
ALprint
With the aim of satisfying the most va-ried labelling requirements, alongside its own broad range of labellers ALTECH offers the prestigious families of heat transfer printers made by the Japanese company SATO, that for its quality and performance detains unrivalled leadership on the world market.
The ALprint range includes various models with a variety of features for paper breadths from 100 to 160, print speeds up to 300 mm/s, 8 to 12 dots/mm resolution, thus also satisfying the most particular technical /economic needs of its clientele.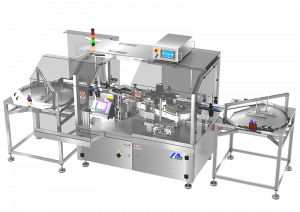 ALpharma
ALpharma line pressure sensitive labeling systems have been specially devised by ALTECH for the packaging of pharmaceutical products.
Based on the its wide experience in designing innovative labeling systems, which have proven extremely successful in all market sectors, ALTECH has developed the ALpharma line, whose advanced features fully comply with the strict rules and regulations of the pharmaceutical industry.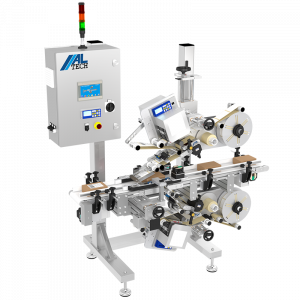 ALbelt
ALbelt is a simplified linear system, open, compact, and particularly economical. It can be configured for top, side, top and bottom, wraparound labelling of various products, cylindrical or flat. Its simple and solid main structure houses a conveyor and one or more  labelling heads (choice of ALstep, ALritma or ALcode model).