Via Vico Veneto
26
20072
Fizzonasco Di Pieve Emanuele
MI
Italia
Company description
G. Brambilla produces and sells in Italy and abroad accessories for packaging, the paper industry, industrial applications and the leather industry.
Founded in 1927, it has been operating in the packaging sector since 1982 with the plastic accessories line. It is specialised in the production of a series of essential components for packaging, that is, rivets, handles, screws and fasteners. Besides a series of standard products, G. Brambilla designs, carries out the prototyping and develops moulds for producing special articles, supporting companies in this way in putting new ideas into practice. It has been exclusive distributor for Italy of the ITEM PRODUCTS brand since 2017.
The constant drive towards innovation, combined with investments in cutting-edge production technologies has allowed the company to introduce into the market a number of new products that make it possible to open and close a box in corrugated board of various thicknesses an infinite number of times, thus facilitating its reuse. This implies a notable saving of resources for the customer.
Last but not least, its commitment to sustainability and attention towards the environment is applied in the use of recyclable materials.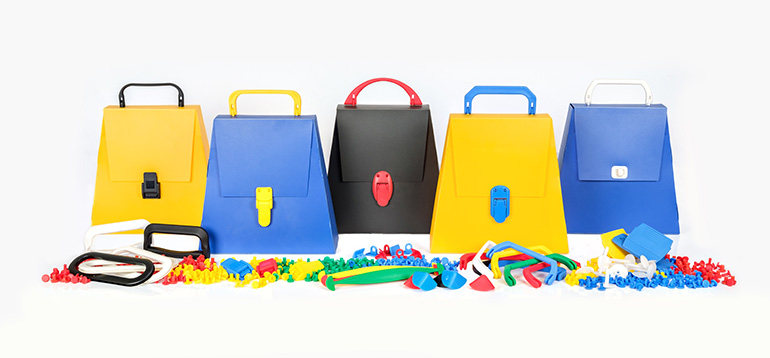 Prodotti
INTERLOCK assembly systems
The INTERLOCK range of products is composed of innovative assembly systems that makes it possible to clip together multiple sections of corrugated board. Suitable for various uses and different thicknesses, all the articles in the catalogue have a number of common characteristics:
they are easy to use, given that, thanks to the clip fastening, just two fingers are needed to close and remove them;
they are reusable a number of times and are eco-friendly, allowing the user company to save time and money.

Corra-Screw
It is a reusable screw for packaging in corrugated board. Available in two sizes for double and triple-sheet panels, Corra-Screw can be used to assemble and disassemble different types of packaging.
Very quick and easy to use, it's ideal for returnable packaging: it can, in fact, be fixed by hand or with a screwdriver and eliminates the need for adhesive tape or staples, reducing, in this way, potential damage to the packaging. Corra-Screw is robust, recyclable and made with 100% recycled material.

Box Latch
The innovative system proposed by G.Brambilla makes it possible to close a box without using adhesive tape and to close and open it endless times. Often considered inexpensive, adhesive tape in actual fact ruins the box, limiting reuse and is not eco-friendly.
Box Latch allows, instead, for a reduction of up to 90% of the cost of packaging material thanks to the possible reuse of the boxes. Here are some other advantages guaranteed by the system:
it is reusable and easy to dispose of if necessary, respecting the environment;
it ensures time-saving in normal goods storage operations;
it helps to keep the warehouse in order.