Via Stelloni
39 F/G
40010
Sala Bolognese
BO
Italia
Telephone
+39 051 6815243
Company description
With more than 50 years of activity, Famar Tec is a leader in the design and construction of automatic machines for primary and secondary packaging for the pharmaceutical, cosmetics and nutraceutical market.
The original production range, which includes blistering machines, thermoforming machines, cartoning machines and horizontal cartoners, integrates with that of the Curti group, to which it has belonged since 2015, in order to offer complete lines up to palletisation.
Today Famar Tec represents an ideal partner, guaranteeing customers valuable returns on investments in addition to full assistance, consulting and customer care, starting with management of the job and final testing.
Products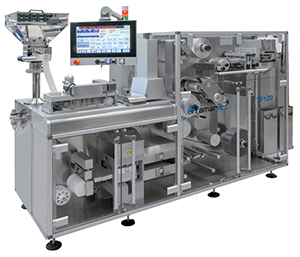 TF series blister machines
They are distinguished by ease of use, small dimensions and quick format changeover. They are extremely flexible machines, able to accept different types of feeding system based on the product type and packaging material. The production speed varies according to model, from a minimum of 50 to a maximum of 600 blisters/min.
The main working stations are controlled by brushless motors that enable performing format changeover without manual adjustment. With a balcony construction and roller sealing system, the machines can be equipped by vision systems as well as control and printing units.
RM series blister machines
Suitable for medium-high capacity, with plate sealing, these machines are available in different versions, depending on the customer's requirements: RM 250 with intermittent and totally mechanical motion; RM 1025 with servomotors and a balcony structure; RM 350, totally driven by brushless motors, web up to 350 mm, pitch up to 300 mm, created for the pharmaceutical and tobacco industries.
Connexa 600
Integrated, high-speed blister line fully servo-driven and with positive blister transfer. High efficiency in terms of production and flexibility, in less than 10 meters length.

Composed by:
Blistering module with roller sealing system;  
Positive blister transfer system by ABB robot; 
Continuous motion cartoning module.
RF thermoforming machine
Specially designed for packaging syringes, ampoules and vials thanks to its ability to reach a forming depth of 40 mm and a maximum width of 300 mm. The machine is available in different versions, depending on customer need: mechanical, electronic controlled by servo-motors or with web and step extension (RF/S version). The different feeding systems depend on the product type, mostly pick & place and robots.
Horizontal alternate and continuous motion cartoners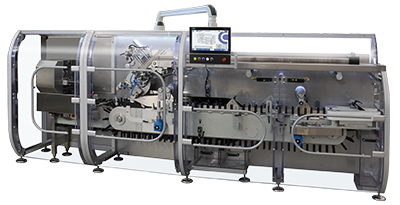 The range is composed by continuous motion cartoning machine mod. A330-C for medium-high speed (up to 300 cartons/min) and alternate motion cartoning machines "A1 series" (mechanical speed up to 120 cartons/min), both designed for horizontal packaging of pharmaceuticals, cosmetics and related products in pre-glued cartons, with glue or tuck-in closure.
A1 series is available in three different models (A1, A1/S e A1/SP) anable to handle a very wide range of formats (up to 170x95x220 mm). The cartoning cycle, by means of servo motors, is completely automatic. The feeding systems are designed in accordance with the product type to be packaged (blisters, trays, bottles, tubes, sticks and sachets), to any connections with the machines upstream, and to tailor-made software and hardware solutions, that allow easy integration with serialization systems, now increasingly required.
The newest in the continuous motion cartoning machines family is the mod. A330-C: balcony construction and fully servo-driven. Thanks to innovative quick release systems and digital position indicators, the size change-over is extremely simple and fast.
Horizontal casepacker
Available in the HCP312 automatic or HCP313 semi-automatic versions, to pack cases into RSC boxes, the machine stands out for its sturdy and functional balcony structure as well as easy and speedy format changeover. Ideal for the pharma sector, it is designed to fit control, aggregation and labelling systems. Speed of incoming products:330 pieces/min.